La Barca de Sua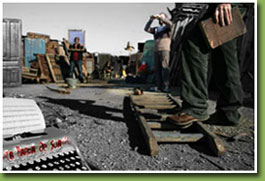 La Barca de Sua is an artistic proposal which arose from the musical interests of four people from Granada. In September 2004, Raúl Lucas (spanish guitar, composer), Luigi Ramos (electric guitar), Ignacio García (bass) and Inwit Puntotk (percussion) began to play together, as a pastime, in an old house of Granada´s Albaycín, close to the Elvira´s arch. After a year, with the incorporation of singer Carmen Caballero, the band and its music reached a new level of expectations and they offered their first live performances. From summer 2006 the band was completed with the recruitment of Emilio Parrilla (clarinet, sax).
Their debut took place in local club Musik-7 and it was widely covered by local press, with excellent reviews. Later they recorded ´Demo 2006´, in La Fragua studios (www.lafragua.tk), six songs that gave the first taste of their music to the world. This album was, from the first moment, fully available for download in their website, www.labarcadesua.org, where they publish not only their music but other artistic works, all under a Creative Commons license.
With this album La Barca de Sua won the 2006 edition of the Espacio Libre festival (a contest promoted by the county council of Granada), and this brought the opportunity of playing at the Festival Zaidín Rock, in September 2006. There they shared stage with first level spanish bands as Celtas Cortos or Sex Museum.
As a pioneer copyleft band, they have been selected to take part in several compilations of CC music, as the ones promoted by El País´ supplement EP3 (Tanto Talento vol.2, with more than 30.000 downloads), or Radio87Mhz.
On July 2007, they published their second work, ´Artilugios para abrir un cuento´, which had a very good reception and a big impact in national press. Questioning the actual musical business scheme, they published a special edition ´authorized for street sale´, which is being distributed by senegalese street sellers with their permission. This second work is also downloadable from their webpage, reaching around a thousand downloads only during the first week.
"Naïf", the band's third album, was published on September 2009. Born as a collaborative artistic production work between La Barca and The Wisemen (Pepe Doughan, Diego Nieto, Pedrológico -Analógica-, Carlos Dingo and Isa García from Red Soul Community), this album shows the stylistic progression of the band, specially with the musical arrangements and the sound evollution.
Over Raul Lucas´ compositions, their songs are born from the interaction between the different ways each member understands and feels music. The experimentation with modern musical concepts, coming from their varied influences (that range from jazz to rock, through mediterranean and latin-american sounds), makes their sound to be hardly defined in style, but very personal and distinctive.
La Barca de Sua is also an alive artistic concept, a measuring of reality set from alternative perspectives. Their lyrics refer to this quest.
Performances
2006
26/01/06 Granada. Musik-7.
07/04/06 Granada. Semifinales Espacio Libre - Sala Tren.
03/04/06

Granada. Final Espacio Libre - Paseos Universitarios.

19/05/06 Granada. Sala Dakota. I Festival Lavín Compae.
02/09/06 Granada. Al-Jaima.
07/09/06

Granada. Fiestas del Zaidín (con Celtas Cortos).

11/11/06 Granada. Planta Baja (con La Kermes).
2007
09/03/07 Granada. I Festival CompArte. Centro Cívico del Zaidín.
30/04/07 Granada. Sala Planta Baja (con Fritanga).
14/06/07 Ubeda. Sala Fogo.
21/07/07 Fuente Obejuna. I Festival Obejuna Rock.
10/08/07 Marchena. Sala Akasha.
19/08/07

Castel de Ferro. I Festival Rebalaje Rock (con Lagatija Nick).

10/10/2007 -

Paseillos Universitarios, Granada - LBS + LaDrillo + Goma dos

03/11/2007 -

Sala La Telonera - 2º Lavín Compae Festival

16/11/2007 -

Sala El Tren, Granada - Te Pica la Barba

- [Crónica]
18/11/2007 -

Lounge Arsenio Manila, Cádiz - La Barca de Sua

- [Crónica]
23/11/2007 -

Sala Moby Dick (Madrid) - Fiesta EP3

- [Crónica]
24/11/2007 -

L´Hospitalet de Llobregat (Barcelona) - Sala La República

06/12/2007 -

Sala Planta Baja - LBS + El Informe de Walter + Potato

- [Crónica]
22/12/2007 -

Sala Palo Palo, Marinaleda - LBS + Sondenadie
2008
28/03/2008 -

La Telonera (Armilla) - Los Vecinos del Callejon + LBS

29/03/2008 -

Fnac, Sevilla - Acústico LBS

29/03/2008 -

Sala Malandar, Sevilla - La Barca de Sua

- [Crónica]
17/05/2008 -

CEULAJ - Mollina (Málaga) - LBS

- [Crónica]
14/06/2008 -

Centro Cívico del Zaidín - Festival AGM

- [Crónica]
27/06/2008 -

Huerta Cercada (Huétor Vega, Gr) - Festival Solidario S.O.S.

31/07/2008 -

Porcuna (Jaén) - LBS

21/08/2008 -

Lúcar (Almería) - 3 Chumbera Rock

23/08/2008 -

Castell de Ferro (Granada) - II Rebalaje Rock

- [Crónica]
30/08/2008 -

Porcuna (Jaén) - Final Concurso de Porcuna

09/10/2008 -

Planta Baja, Granada - 20º Aniversario Planta Baja - LBS + La Banda del Boogaclub + Red Soul Community + Mokelembembe + Son de Nadie

28/11/2008 -

Sala Factory, La Rambla (Córdoba) - La Barca de Sua

04/12/2008 -

Sala Planta Baja - Mokelembembe + La Barca de Sua

06/12/2008 -

Sala Caracol, Madrid - BandaBardò + La Barca de Sua

- [Crónica]
2009
14/01/2009 -

Bar Juan&José, Granada - Acústico LBS

18/02/2009 -

Pata Palo, Granada - Acústico LBS

13/03/2009 -

Taxco, Huetor Vega, Granada - Acústico LBS

14/03/2009 -

Festival Solidario AlertaRock

- [Crónica]
03/04/2009 -

Huercal Overa, Almería - Sputnik Féstival

- [Crónica]
26/06/2009 -

Sala Malandar, Sevilla - Concierto LBS

- [Crónica]
27/06/2009 -

Sala MomentO2, Granada - Concierto LBS

- [Crónica]
10/07/2009 -

Sala Buddha, Huercal Overa (Almería) - Concierto LBS

- [Crónica]
11/07/2009 -

Jazz Life, Mojácar (Almería) - Concierto LBS

- [Crónica]
08/08/2009 -

Festival Quisquilla Rock, Motril (Granada)

- [Crónica]
14/08/2009 -

Fiestas de Huetor Vega, Granada

- [Crónica]
29/08/2009 -

Benamahoma, Cádiz, Acústico LBS

- [Crónica]
12/09/2009 -

Festival Acquaviva (Siena, Italia)

- [Crónica]
25/09/2009 -

Festival Poesía en Resistencia, Granada - Acústico LBS

17/10/2009 -

Sala Malandar (Sevilla), Presentación EP Naïf

06/11/2009 -

Sala Boogaclub (Granada), Presentación EP Naïf

14/11/2009 -

Pub Ágora (Motril) - Acústico LBS
2010